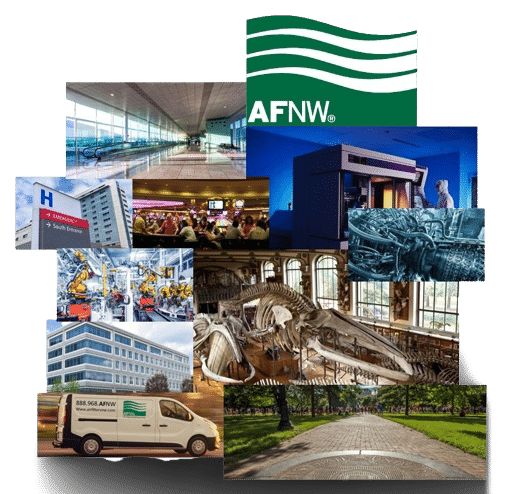 Since 1993, clients in the Pacific Northwest and nationwide have trusted AFNW® to provide solutions tailored to meet or exceed all industrial, commercial and institutional indoor air requirements.
We are a licensed general and specialty contractor by the Oregon State Contractors Board.
Our 12,500+ sq ft warehouse is fully stocked with products ranging from disposable filters (M.E.R.V. 5) to high volume H.E.P.A.'s (99.99% / Lowest Pressure Drop)
Customers have entrusted AFNW® with their ventilation system inspections, filter replacements, cleanings, site surveys and performance monitoring for over 25 years!
In 2016, AFNW®, Inc. created AFNW® Services, LLC. to provide installation services specializing in the development of customized solutions problematic for Data Center owners and end users. Since then we have opened up an office and a warehouse in Sterling, Virginia. Please visit our website at www.afnwservicesllc.com and www.infinipleat.com for further information about our data center services.
AFNW® is an Oregon based company, specializing in working with Facility Owners / Managers with in house staff to augment their filtration services and needs. We provide our customers with quality air filtration services (products, building surveys, and Turn-Key installation services by our own National Air Filtration Association (NAFA) certified employees). Enjoy peace of mind knowing your filtration solutions are being handled by the best!
AFNW® has a great reputation for understanding our customers unique air filtration challenges and providing filter and installation solutions that not only provide excellent indoor air quality filters, but provide installation services that are tailored to fit your onsite requirements. We understand that your time is valuable and that you want your facility to be treated with respect. We train our employees to understand that each of our customers are valued and that their facilities have procedures and protocols that need to be followed.
AFNW® is your one stop shopping experience for all of your air quality needs.  We pride ourselves with specializing in Full Service Turn-Key Installations, High End filtration solutions, and offer Factory Quality non-standard filters, custom made in our own warehouse or by one of our many quality air filter manufacturers.
Contact us today to schedule your site survey and/or quotation!
AFNW Services has a unique relationship with our manufacturing partners located throughout the world. Our partners are vertically integrated so our clients receive exactly the same quality products each and every time.
Act with integrity
Produce quality products
Think differently
Make a difference
Guarantee products and services
Use this short paragraph to explain how you will deliver this benefit to the visitor if they decide to work with you.